WoWInterface
(
https://www.wowinterface.com/forums/index.php
)
---
Pick for 8/20: Ara Broker Guild Friends (updated)

Ara Broker Guild Friends: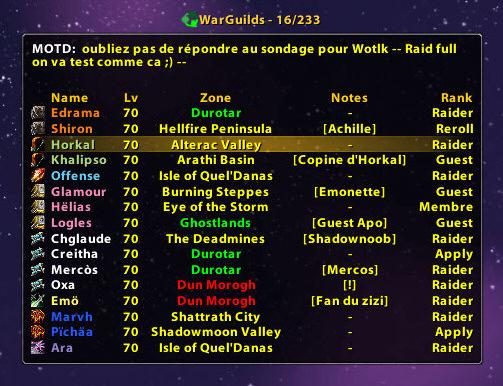 This addon provides two Data Broker objects to display your friends list and your guild. You no longer have to open up the Friends or Guild windows to see how many people are online. Using the "tooltip" that opens when you hover your mouse over each object, you can see who you can invite to a group or have a chat with - even by just clicking their names. Guild notes are included in the list as well, so you can see at a glance if that name you don't recognize in guild chat is an alt.
Check out the load of features
here
.
(Don't have an addon to display LibDataBroker feeds?
Titan Panel
can work if you already have it installed, or try out a native display such as
DockingStation
,
StatBlockCore
or
ChocolateBar
.)
For previous Picks of the Week, visit our
PotW archive forum
.
Are you the author of a mod that you think belongs in this spotlight? Just upload/update it to WoWInterface, and it will automatically be considered for that week's Pick. :)
All times are GMT -6. The time now is

07:20 AM

.
vBulletin © 2020, Jelsoft Enterprises Ltd
© 2004 - 2020 MMOUI