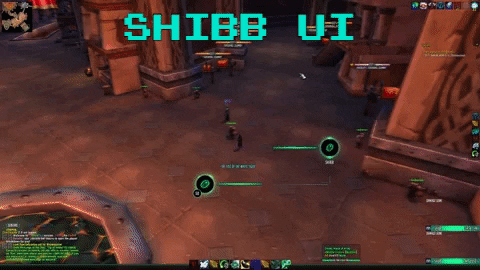 - Youtube guide for the UI is coming up in a few days -
- Preview -
Hey!
Finally I've decided that I'm satisfied with my UI so it's going to be released.
As always I have the orb based upon Birgs concept. It doesn't really do anything special in the UI, it's mostly eyecandy.
It has two different layouts, either the centered one that I prefer, and a balanced on with player and target unitframe in the same level.
I've added some custom icons for different classes and NPC. The icons are placed in a separate folder called "ShibbMedia"
I will put up a small presentation video on youtube and maybe a short guide how to tweak and maybe add some animations.
At the moment I only play two classes and haven't added buffs/debuffs for any other class.
If you want to add debuffs or buffs connected to the targetunitframe, you need to configure "Raven" and select the "Target"-group. And then choose the tab for buffs or debuffs, scroll down and enter the abilities you want to track under "White List".
Same goes for the nameplates, configure "Plater", go to buffs tracking and enter the debuffs you want to track on the enemies.
I dislike having a bunch of debuffs pop up that I don't really care about, that's why I choose to use filters.
I have also left the Windwalker animations Weakauras in the UI if someone wants to add another class you can just copy similar abilites and change the spell settings of your liking.
Note
To have the complete UI you will need to download the following ElvUI parts:
ElvUI Core
ElvUI mMediaTag
Instructions
1. Make sure to copy your previous Interface and WTF folders into a new backup folder in case you
want to switch back to your old UI later. You will find these in "World of Warcraft/_retail_" folder.
2. Delete the Interface and WTF in the "_retail_" folder after making the backup.
3. Extract the Interface and WTF folders from the *.zip into your "World of Warcraft/_retail_" folder.
4. Open the "WTF/Account" folder and change the following folders:
YOURACCOUNTNAME -> Your Accountname
Yourservername -> Your server
Yourcharactername -> Your character (Don't know if this one is neccessary though)
5a. When the game starts you should get a message that asks "New character detected! Do you wish to load the settings for ShibbUI", press yes and
the ui should load up. If it messes up go to step 5b.
5b. Type /reflux switch ShibbUI (case sensitive).
7. If Details addon don't load up just type "/details profile ShibbUI"
8. For the scrolling combat text you need to load the profile manually. Type "/msbt" and choose the ShibbUI-Centered profile.
That should do it.
Balanced Layout
For the Balanced UI layout you need to manually load it since i couldn't get the reflux to cooperate.
/elvui -> Profiles -> Choose ShibbUI-Balanced
/msbt -> Choose profile ShibbUI-Balanced
/suf -> Profiles -> Choose ShibbUI-Balanced
Since weakauras and Raven are anchored to the ShadowedUnitframes this should be enough
Addons
- !Buggrabber
- BirgMedia
- ChatSounds
- Clique
- Details
- KgPanels
- Masque
- Masque_Caith
- Masque_ElvUIesque
- MikScrollingBattleText
- NameplateSCT
- nibProfileLoader
- Plater
- Raven
- Reflux
- ShadowedUnitFrames
- SharedMedia
- SharedMedia_Lolzen
- SharedMedia_Mymedia
- ShibbMedia (Library)
- Weakauras