Patch 1.13.3: World of Warcraft Classic

Check the retail version of AbyssUI here.
Always check the FAQ, change log and the comments section before asking/report something.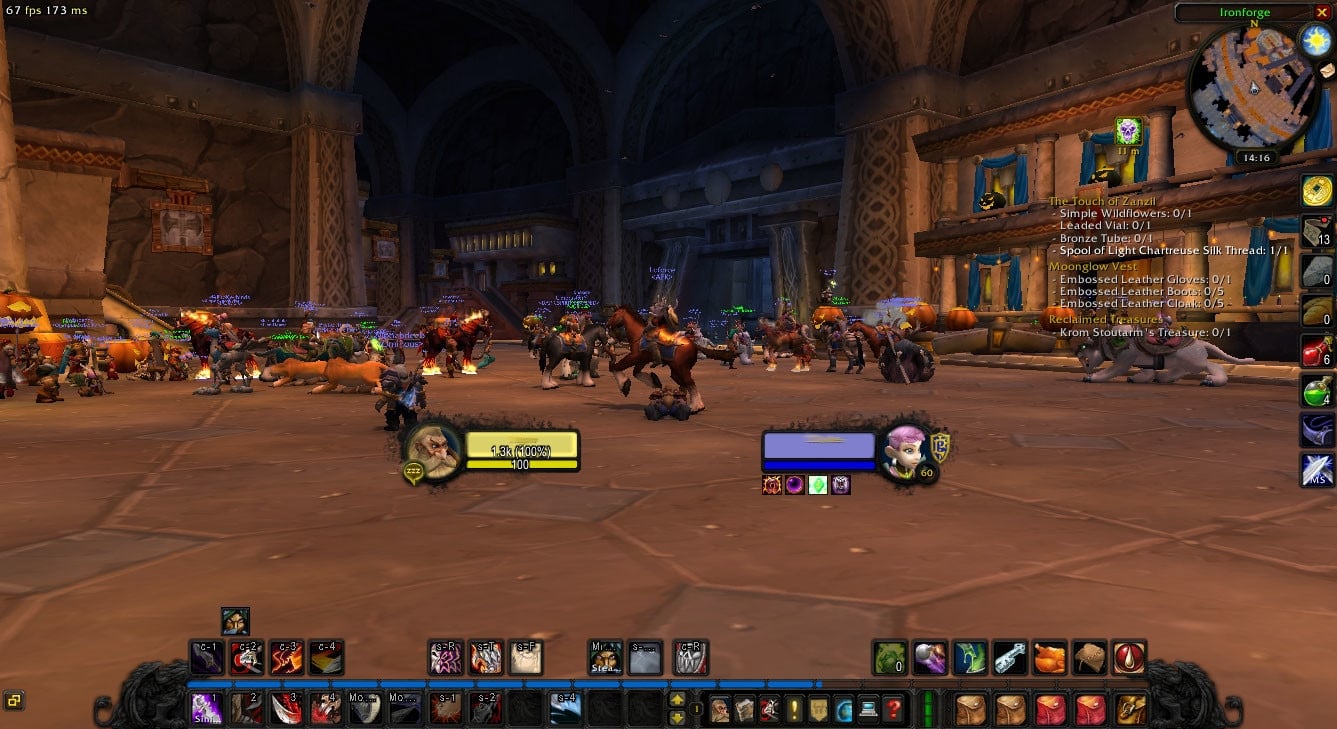 AbyssUI is a minimalist World of Warcraft interface. It changes parts of the interface so you can have a more customizable and clean UI.
Hi, I'm Yugen. I'm from Brazil and I like to do this as a hobby (I did spend too much time editing textures tho lol, but I'm glad that it turned into a really nice UI that I'm proud of it). Hope you liked my Interface, if so, share with your friends, donate or hit favorite. That mean you really liked my work and want me to continue. Thanks for all the support.

This works in the same way for Classic but the action bar is the big one.


PS: AbyssUI is lightweight, it will not make your PC/Game slow (file size is due to textures). For comparison, Windows Notepad use about 2MB of RAM, AbyssUI use 400/500KB (idle) up to 800/900KB (40+ raids) and almost nothing of CPU. Also AbyssUI will mostly not conflict with any other AddOn or UI (rare to happen), so you are free to use a lot of modifiers.

Flat Player Icons is the texture pack that I used as a base for the UI portraits (has a lot of modifications and my own work).

Clean Icons Is the icon pack used in the screenshots (to reduce file size and give a option for users, you need to download and install the icon pack by yourself)

How to Install?
1- Extract the compact folder, and you will notice a folder named Interface;
2- In WoW folder make a backup of your old Interface folder (e.g rename to Interface.old);
3- Then copy the AbyssUI Interface folder to the WoW folder;
4- It's that simple, make sure to replace the Interface folder and not just the AddOn, sometimes I update static art frames for better resolutions and new stuff.

FAQ
- Some texture are looking/acting weird?
A: This could be caused by Blizzard default textures, or even my UI textures got corrupted, the first thing to do is to play the game in full screen and disable UI-Scale (if enabled). If this doesn't fix the problem you need to delete all AbyssUI files and textures (fresh install), and re-install the UI. If the bug persist report it to me with a screenshot, it's easier to find/understand the problem this way.

- Texture/Image is not right or cropped?
A: Change to full screen and disable UI-Scale (if enabled). If this doesn't work, delete all the textures and the AddOn and re-install the interface from "zero". I change textures sometimes, if you just replace folders it will not work very well and textures could overlap, you need to do a fresh installation.

- Portrait textures are not working, or seems glitchy?
A: You are probably using a old texture version of AbyssUI, you need to download this version (from wowinterface) and things will be fixed.

- Is there a way to keep the frames like Blizzard default color?
A: In the interface folder there is a lot of textures, you can remove them (this will remove every texture that I changed from the original files, so a lot of things maybe lose their beauty). After that, choose the "Silver or Blizzard Default color" in the themes tab.

- Why the file is size is high?
A: There is a lot of textures (dark borders, icons, and all), this make the file bigger, but it doesn't change anything in the performance of the game/computer. The actual UI takes just half a megabyte (this is less than windows notepad memory use).

Top 5 AddOns that I recommend (check their work, they are all lightweight addons).
1- Threat Plates Classic; or KuiNameplates;
2- Dominos Classic; or Bartender4;
3- Bagnon;
4- Flash TaskBar;
5- Postal.


Please Report any bug.