New Karazhan Mythic Dungeon
From the moment of its mysterious creation, the purpose of this dark tower has been intertwined with the history of the Guardians of Tirisfal, once Azeroth's greatest bulwark against the Legion. It is now best known as the home of Medivh, who tragically betrayed Azeroth and brought the unbroken chain of Guardians to an end. This legacy makes Karazhan a place of particular interest for the Legion, who have descended in full force in an effort to open a new front in their war on the denizens of Azeroth.
Gather a party of five seasoned adventurers and return to this legendary dungeon to face eight bosses on Mythic difficulty. It's an experience that may turn you upside-down!
New Trial of Valor Raid
Since Loken's betrayal, Odyn has been trapped within the Halls of Valor as Helya plots in the shadows to claim the souls of his valarjar champions. In recent days, however, great heroes have arrived in the lands of Stormheim in the Legion's wake. Hoping that their might and determination could tip the scales and end Helya's reign, Odyn summons these champions for a final test.
This new three-boss raid dungeon completes the story of Stormheim. Odyn, Guarm, and Helya will become available in Normal and Heroic difficulties two weeks after the launch of Patch 7.1, with Mythic and Raid Finder Difficulties opening afterward.
The Continuing Suramar Campaign
Your heroic efforts in Suramar continue with a series of quests that unlock over a period of nine weeks, ultimately leading you to the very entrance of the Nighthold. Delve into the story of the Nightfallen insurrection against the Nightborne and their Legion allies, and you can obtain the wondrous Arcanist's Manasaber mount. Look for the quest "Lockdown" to get started.
New World Quests
A new questline that will unlock Helarjar World Quests is now available. Look for "A Call to Action" in Dalaran to discover the depth of Helya's influence on all of the Broken Isles and contribute to the resistance.
Falcosaurs are here! The coastline of the Broken Isles is under assault from an invasive, predatory species, and they're breeding out of control! Falcosaurs drop Falcosaur Eggs and Falcosaur Feathers, reagents for new First Aid and Cooking recipes. Save an Orphaned Falcosaur pet to begin a journey toward understanding these hungry creatures, and you might find yourself with a unique new mount.
User Interface
Nameplate options made less confusing.
Addons can no longer access the positions for player, party, and raid members in instances.
Addons can no longer perform actions on nameplate tokens.
The icons in the icon picker for macros and guild bank tabs are larger.
New macro conditions for "reticle" spells: @cursor and @player.
Set pieces are now called out in the personal loot banner.
A transmogrification chat message is now displayed whenever any bind-on-equip item becomes bound to you.
In mail, a player's other characters have been added to the auto-complete list.
There is now a confirmation dialog box when sending gold or items through mail and trade.
Flight map now shows party and raid members as well as all turn-in quests and your mini-map yellow arrow quest.
Clicking on the dungeon/raid icon on the world map will open the Dungeon Journal.
So that you can now see what you are on top of, Player icon on World map no longer has a tooltip.
Honor rewards now appear on World Quest tooltips.
Added Auction House sorting by unit price and buyout.
World quests Bonus Objectives will now always show in the tracker, even if you have a lot of tracked quests.
When you click on an emissary button on the world map, the map now moves to a zone with an uncompleted World Quest for that emissary.
World quests can be filtered by reward.
Added support for new Quick Join system.
You can now show the in-raid self-highlight without a circle.
Group Finder now shows raid and wing names in the LFR dropdown and tooltips.
Improvements made to how the UI scaling work better with 4K monitors.
Now allowing for scaling of the cursor for 4K monitors.
Added new "For the Horde" and "For the Alliance" emotes.
Source and full patch notes.

We are so excited to see Blizzard launch their 6th major expansion to World of Warcraft! Legion brings many awesome changes and fresh content to the world of Azeroth…
EU Realms: 30th, August - Midnight CET
NA Realms: 30th, August - Midnight PDT
Features
New continent: The Broken Isles
New class: Demon Hunter
Artifacts: customizable weapons that grow in power as you do
Hundreds of World Quests across The Broken Isles
Class Halls unique to your class
Class Campaigns: unlock an epic class-specific story as you seek out champions to join your order
New Dungeons and Raids
New World Bosses
Level cap raised to 110
Revamped PvP progression system
Improved transmogrification system
Character Boost—immediately raise one character to level 100
AddOns
The majority/all of the changes to the AddOn API have already been released during the
Legion Pre-Patch 7.0.3
on the 19th of July. If you are just coming back to WoW make sure to check out our awesome updater called
Minion
. Update all of your AddOns from WoWInterface with a single button click and even enable automatic updating.
Authors
We have renamed the pre-patch compatibility tag for Legion. It's also a good time to
check out our update API
and integrate uploading to WoWInterface in your release scripts. Those coming back to WoW and have questions about Legion AddOn changes please feel free to post in our
forums
or join the party in
IRC
.

UI
Character nameplates have been reworked and have been upgraded to show class resources. Players may select a larger version of these nameplates from within the Interface Options menu.
Enemy nameplates now provide additional information on status effects.
Added class resource bars that display directly underneath your character.
The character sheet has been trimmed down, though fully verbose stats are still available via the API.
Interface options have changed and been further streamlined.
Tab targeting logic has been reworked, and should now behave in a more consistent and predictable manner.
A buff icon has been added to make it easier to tell when a character has XP gain disabled.
Source and full patch notes.
Authors
The 7.0.3 compatible tag is live, don't forget to use it.
Users
Now that we have
Minion
working well, we have decided to forego the Survival Guide we used to put up. Rather than having to check a page all the time to see if your favourite addons have been updated yet, you can instead just install
Minion
and have it take care of updating your addons automagically.

The Legion pre-expansion patch is arriving July 19, and we wanted to give you a heads up about what to expect—and when you can expect it.
This update will include a wide variety of features and content that set the stage for the expansion, including system changes, quality-of-life improvements, and major in-game events. Some of these features will be available immediately, while other content will be unlocked in the weeks leading up to the expansion's launch. Read on for more details.
The Opening Salvo
When the pre-expansion patch initially goes live, players will be able to immediately access many of its key system-related features. Some of these major updates include:
Transmogrification Updates
The new Transmogrification Collections system will make it easier than ever to collect, store, and sort through the gear you want to use for transmogging—without taking up storage space in your inventory, bank, or Void Storage. As you collect items that can be used with the system, you can browse through them—as well as sort by class or slot—in the Appearances tab in your Collections interface.
Class Updates
We're making some significant changes to classes and their specs for Legion to further strengthen their identities. The core changes to spells, talents, and more are going into effect as soon as the pre-expansion patch goes live. For more information on what's new for each class and spec, read our earlier
class preview blogs
.
We're also making it easier to switch between specializations for different content. Players will be able to queue up for dungeons, raids, Battlegrounds, or Arenas as any role that is available to their class, while continuing to play as another role while they're waiting. When they enter the content they've queued for, they will automatically switch to the suitable role upon entering (at no cost) and then switch back automatically when they leave the instance.
The March Toward Legion
In the weeks following the pre-expansion patch, we'll be unlocking even more content that leads into the August 30 launch of Legion. We're still determining the exact timing of these events, but players who pre-purchase Legion can expect to be playing a Demon Hunter around the second or third week of August (no later than August 17 globally). We'll share more details in the weeks ahead, but here's a look at what's in store:
Burning Legion Invasions
Before all hellfire breaks loose upon the Broken Shore, the Burning Legion will begin its assault upon Azeroth, turning some familiar stomping grounds into demon-infested battlefields—and it will be up to the heroes of the Alliance and the Horde to face the onslaught.
Demon Hunter Early Access
In the weeks before launch, those who have pre-purchased Legion will get early access to the new Demon Hunter class. Players will begin at level 98 and will find themselves on the fel-shattered expanse of Mardum, where they'll play the Demon Hunter starting experience before joining their allies in the fight against the Legion.
The Battle on the Broken Shore Begins
As the situation grows more dire, Azeroth's heroes will begin their first foray onto the Broken Shore—the epicenter of the demonic invasion.
All of the features and content listed above (save for Demon Hunter early access) will be available to all World of Warcraft players, regardless of whether they've pre-purchased Legion.
Source
Authors
, we have enabled the 7.0.3 compatiblity tag. Feel free to start uploading your 7.0.3 compatible addons to the live categories whenever you like.

Our
Minions
are continuing to grow up! We've managed to break them of some of their bad habits (bugs) and done some more training (added features). Now they can take even better care of managing your addons for you so you can concentrate on the business of playing your game!
As always when teaching them new tricks it is possible that they might come up with some new bad habits (bugs). If that happens we want you to tell us about it so we can break them of those bad habits. Please see
this thread
to get the information on what we need when you submit a bug report.
You can go
here
to get your better trained Minion. Please use
this forum
to provide feedback and receive support.
*
Minion
: A free, eager-to-please little monster lackey of your own, with enough sense to stick to orders! Minion can handle all the 'work' assigned, letting you get back to the 'serious business' of playing your game sooner.
[Note]: If you already have Minion 2.1.x, you will need to
re-download
and re-install Minion to get the updated version.
Summon your mounts, open up a portal, and set a course for Southern California for BlizzCon 2016! Blizzard's tenth epic gaming convention and community celebration is returning to the Anaheim Convention Center on Friday, November 4 and Saturday, November 5, 2016.
Group up with your fellow Blizzard gamers and get ready for two days of in-depth discussion panels with our developers, hands-on play time with our latest games, and intense esports tournaments featuring top pro gamers from around the world. We hope you'll join us as we celebrate 25 years of Blizzard games—and you, the players everywhere that have helped bring them to life.
BlizzCon 2016 Tickets
BlizzCon 2016 tickets will go on sale in two batches on
Wednesday, April 20 at 7 p.m. PT
and
Saturday, April 23 at 10 a.m. PT
through the online event ticketing service
Universe
, priced at $199 each (plus applicable taxes and fees). Check out the
BlizzCon Ticket webpage
for all the details.
We're also planning a special pre-BlizzCon Benefit Dinner the evening of Thursday, November 3 in support of
Children's Hospital of Orange County (CHOC)
, where guests will have a chance to raise a glass and geek out with developers, artists, community team representatives, and other members of the Blizzard family. Tickets go on sale Wednesday, April 27 at 7 p.m. PT, priced at $750 each, and attendance will be limited - visit the
Charity Ticket page
for more information.
Source and more information.
[Edit]: If you haven't already, check your accounts to see if you've been flagged yet. Don't count on an email showing up, check your account directly. A bunch of folks have been flagged today, 11 May 2016.

Hopefully Blizzard will be enabling AddOns in the
Legion™
beta shortly. And as you can always count on, we're taking care of you guys. We're starting to submit author accounts to Blizzard so that you can have at least a few days to play before it's time to get down to work on updating your AddOns.
This is
not
a contest! If you are an AddOn author that hosts with us and you have been keeping your AddOns current, you are eligible for a key!
Once they have been enabled and you get the chance to get your AddOn ready for beta testing in the expansion, upload it to our
Legion™ beta download category
and then be sure to check back in our
Legion™ beta forums
for possible feedback.
It is going to work a little bit differently this year, as Blizzard is handling it differently on their end. In previous years we would either send a list of email addresses to Blizzard and they would send you an email with the beta key for you to apply, or they would send us a bunch of keys which we would hand out. Instead, they are now enabling accounts directly. That means that this year we will have to ask you for your battlet.net email address, which we will then send to Blizzard and they will flag your account at their discretion. When they flag your account, they will send you an email giving you information letting you know. Alternately, you can watch for the flag on your account page on the Blizzard site. They typically flag accounts on Monday evenings, so we will be sending in our most recent list to them on Fridays. We'll post the number ranges when we have sent the list to Blizzard.
Let the fun begin!
Sign up now
for your
Legion™
Beta key.
Rules
:
You must have an active World of Warcraft account.
You must be an addon author with one or more files on the site that are current to 6.2.x (Compilations & "Hello world" or its equivalent do not count).
You must include your Battle.net email address. (It will be sent to Blizzard so your account can be flagged for beta).
Do not upload addons that are not your own. Anyone caught uploading someone else's work will be banned from the site. All AddOns submitted are manually checked.
Blizzard and WoWInterface reserve the right to deny anyone access.
Account must be registered before February 01, 2016.
Like & Follow us on...

Facebook

Twitter

Google+
Edit:
Tracking numbers 001 - 050 submitted, 05 Feb 2016
Tracking numbers 051 - 106 submitted, 19 Feb 2016
Tracking numbers 107 - 126 submitted, 04 Mar 2016
Tracking numbers 127 - 136 submitted, 18 Mar 2016
Tracking numbers 137 - 154 submitted, 01 Apr 2016 (not an April Fool's joke, actually submitted :p)
Tracking numbers 155 - 186 submitted, 29 Apr 2016
Tracking numbers 187 - 202 submitted, 13 May 2016
Tracking numbers 203 - 238 submitted, 10 Jun 2016
Now under new (old) ownership

After a number of months of negotiations, Dolby and I have some very exciting news to share with all of you! Under our new company, Good Game Mods LLC, we have been able to re-acquire complete ownership of the MMOUI network (all of the interface sites and Minion).
What does this mean for the future of the sites? Well, I can tell you about some of the short term things that we already know: The next few weeks will be spent getting the sites transferred over to our own servers. Coming up soon ™ we will be rolling out a new layout for the sites. We've also decided that we are going to honour any existing Zam premium memberships for a while. What we will do about a new premium membership in the future has yet to be decided.
We are sure you may have questions for us, so feel free to ask them here. We will answer them as best we may, but please understand that we obviously don't have all of the answers right now. Where things will go in the long term, well, we'll just have to see.
The best news of all, at least in our opinions, is that we aren't going anywhere. Dolby and I are still as dedicated to the UI communities we've built today as we were the day we opened the sites. You can't get rid of us that easily.

Well... how about that! Finally got around to (drum roll)... update:
* We Don't Wipe
Frost Mage
module.
* We Don't Wipe
Enhancement Shaman
module.
Other AddOns have had some updates here and there but for now until the eagerly anticipated Kara Patch hits, I will try to save any other updates until then as that Patch will require every AddOn from all authors to be updated!
Since my previous post I have been rather busy with my AddOns.
Sure,
Yarrr
, my new pirate themed AddOn might have slipped by unnoticed (aye me hearties but it be a whole lotta fun for when yer out on thar High Seas with yer cutlass in yer hand!).
And updates to
Netherwing Eggs
have further enhanced its accuracy and completeness for recording almost all known egg locations.
Then there were updates to enhance or fix minor bugs in
Hard Yards
,
Adorable Hatchling Nests
, and
This Scampi Happening
.
But the big news is that
Havoc Demon Hunters
now have their very own
We Don't Wipe
AddOn!!!
A lot of work went into this module and I've noticed it is unique for DPS maximiser / trainer AddOns. Your feedback would be appreciated.
Until next time!
As of 1.3.8 of GS-E you can now trace the execution of your Macro. This is an option in your Interface Options under the Debug Window.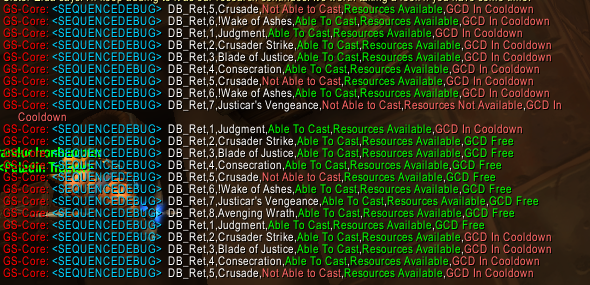 The Columns in that are:
SequenceName,CurrentLineNumber,Spell,Is the Spell on Cooldown?,Do you have the resources for the spell?,Is Global Cooldown in effect?
I won't be able to update my......... plug-ins ......... addons.......... what ever ...... for quite some time. My computer is well and truly fried. It apparently suffered an electrical surge, and it will be about two years or so til I can afford to buy a new one

I want to thank all of the people who have been kind enough to download my ....... plug-ins. Hopefully I'll be back, but, only time will tell.

Thank you very much.
Like the title says, I just don't know when I'll get around to updating my ........ plug-ins .......... addons ........... whatever you want to call them. My computer crashed and I don't know when I'll get around to getting another one or getting it fixed. I'm posting this with an Acer Iconia A100 tablet, ŕnd it's an older one.

I just wanted to let everyone know. Thanks!
1.3 was a rewrite of about 80% of the mod.
Good News:
You can do everything in game. No more needing a text editor or GS-myMacros or LUA errors.
You can now import a Sequence via a copy/paste
The realtime parser didnt work as well as it should have in 1.2 Its now off by default but you can still turn it on. It is scheduled for a lot of work in the next version.
The entire storage side has been rewritten to allow for multiple versions of a macro. No more LiveTest. When you log out it will keep the latest version.
More language updates. Also a sample of how to create errata for words that are not updating has been added to the source of GS-myMacros
A ton of bug fixes
The preview Video is here:
https://www.youtube.com/watch?v=6ZxXCb0CBXk
In order to make this work, I had to change the way that Sequences were loaded. THe good part is that you can now tell where a macro came from. There is now a Source and AuthorVersion tag in the header so you can see where something came from.
The downside is that if you used to maintain a single Sequences.lua file in GS-Core, this file will no longer load.
What you can do though is copy every sequence and import them as one hit!
. The macros are saved in the c:\path\to\World of Warcraft\WTF\AccountName\SavedVariables\GS-Core.lua This file will only be written when WOW completely closes. There should be almost no reason to edit this file.
The last minute change that missed the video is that where there used to be radio buttons for class and spec there is a a dropdown. If something imports with no or the wrong spec you can change it.
as of now i will no longer support UI-tat

however, Project Deranjata, its replacement is in full swing jut go get it instead, its more stable and more reliable with less addons.

Project Deranjata handles many things that used to be handled by addons that were included in UI-tat

i hope you all enjoy it
Official Blizzard Fansite

WoWInterface is proud to be an Official Member of the Blizzard Fan Site Program.
Disclaimer
Author Credit is given on a simple basis. We credit the person who sends the mod in, and says "I wrote this" if you see your work here, and its credited to someone else contact us first using the link at the bottom of the site. Please remember more than one person can make the same mod.